Managing the unmanageable: Working with dispersed / remote teams and not losing your mind
2020 has plunged the world into a whirlwind of unknowns and "new normal" but one of the most significant changes was the switch to remote work, or "work from home". Countries call it by different names such as "smart working" (here in Italy for example), "Remote work", "work from home" and more, but the bottom line is the same: people who had the option to, were encouraged or even forced to start working from home rather than the office.
We won't go into the enormous damage to people who cannot work from home for various reasons (from the type of work they do to the lack space and tools), but focus on the work culture and managerial styles that also needed to change, and in many case have not.
Herding cats
Remote teams are not a new thing and many companies have been working like this from the moment of their inception (Slack, Toggl, to name a couple). But there is a difference between working for a company that invested in remote work from the beginning, and a company that was "thrown into the deep end of the pool" out of the blue.
Working with remote teams also differs if you work with people from the same company or organization or if you're working with independent freelance service providers and sub-contractors, located all across the globe.
Clearly, it's common sense to say, that the office appropriate managerial style and working procedures, as well the tools, are totally different in the case of working remotely and especially when managing a dispersed remote team.
Learning from the experienced
If you found yourself suddenly having to manage people who are not sitting in the same office for the same amount of hours or able to meet face to face, you'll want to take note and learn from companies that have already been doing that for years.
Your research checklist should include:
Culture and strategy
Tools for internal communications and external communications
Infrastructure for IT and cloud services
Work-life balance
Management style
Let's try to break these apart a bit.
Culture and Strategy
When people work in an office, they share a physical space and construct a rapport and culture that are unique. From the way they decorate the office or their personal space in the larger office environment, to their coffee breaks and lunch breaks habits of where they take them, who they take them with, to forming strong bonds and personal friendships.
When working in a physical office there are things like happy hour, birthday celebrations, holiday parties.
All of these are gone in an instant when you tell people to work from home. At home they are alone (their family may be there, but this can become a point of disturbance rather than comfort), their attention span is divided between work and home life, they do not have their coffee break or lunch break at the same hour as they would in the office, they do not have a space of their own to claim (be it an entire office or a cubicle or a station in an open space).
As an employer or a manager you must remember this and make changes to the corporate culture to adapt. How do you do that?
You start by creating a strategy for communication (see also next section) and organizational culture. You set in place guidelines and you let people know that even though they are not physically with their workmates, they are not alone.
You get help! You "promote" some of the more sociable employees to be in charge of a "buddy system" whereby a team member who feels overwhelmed has a point of contact to turn to, someone to talk to and someone who listens and helps resolve any issues, without judgement. It is easier if this is a colleague, a peer, rather than a superior.
You create new traditions and "rituals" that can be held virtually. You have your happy hour on video chat, you make sure that birthdays do not go unnoticed, and that holidays or events are marked and celebrated.
If you have the budget you send your team members little care packages and gifts to make them feel that they belong to an organization that cares about them. If those gifts are also useful to help with life in times of a global pandemic, or to facilitate easier work from home – the better they are.
Communication Tools
When it comes to communication the main change is that, usually when people work in a physical office internal communication is done at meetings, face to face over coffee or lunch, company email or through an internal portal. The internal communication is usually something most team leaders pay little to no attention to, and take for granted.
External communication – communicating with clients, service providers and other people outside the organization is usually done from the work computer by email or on phone.
The main change when working remotely, is that if the company does not have in place a good or appropriate IT infrastructure (see next section too), there can be many mishaps such as employees not having access to materials on their work computer if it's not a laptop they take home, losing access to your corporate email, being locked out of shared accounts. If this happens people start communicating both internally and externally using their personal accounts, platforms, and means of communication and so it happens, that one person uses WhatsApp and their Gmail address, while another has Hotmail and shares documents on Microsoft one drive and a third sends messages on Facebook messenger.
In other words – a hot mess!
The same can hinder external communication when clients and service providers begin getting emails from a personal address or WhatsApp messages and get confused.
What you do is the following:
You take time to make a uniform, cross-organization decision on communication tools and channels. You make sure these are channels that are accessible and easy for the team members to use and join, or you equip them with the right tools and accounts.
Whatever you choose is ok as long as it serves your team and the organization best and as long as everyone is using the exact same tool for the same purpose.
For example, if you choose to work with slack for internal communications, you do not use WhatsApp, telegram and Facebook messenger in addition. You  only use slack for the work related communications.
If you choose to use google drive to share documents and collaborate  – you only use that and if it means paying for a corporate G-Suite account so all company emails become a "google mail" and have access, then you do that.
If you choose Microsoft and move the entire organization to Office365, so be it! But be consistent!
For external communication having your accounts on one platform will also help unify the organization brand appearance across channels, even if people use different mail clients or operating systems on their personal computers.
IT Infrastructure
To support both previous sections of streamlining communication and work procedures, you need to have a proper IT infrastructure that takes into account the organizational needs and maintains a set of cohesive tools and channels for teams to use.
When you work in a physical office, there's usually an IT person or team that makes sure new employees are getting their computer pre-installed with all the tools, that open and maintain the accounts for email, that maintain cloud storage for shared files and more.
When people work each from their own home, often on their personal laptop that isn't necessarily the work laptop, or when the organization comprises many separate teams and freelancers, you do not have an IT department.
So you either get a person to help you, or utilize IT people you already have but you create the infrastructure to include all the tools, channels and environments your team members need, on the organizational level.
In other words, you don't rely on Jim uploading docs to his personal drive and Nelly downloading them to her computer to upload a backup to her Microsoft cloud or iCloud account.
You get someone to first check what you have, understand what you need and set you and your team up for proper remote work.
You also need to consider that the tools you need are on several levels or layers:
The internal communication channel (e.g slack, WhatsApp, telegram, email) is not the same thing as the shared collaborative space for work documents and files (e.g Google Drive, iCloud, OneDrive) and not the same thing as the dev environment or storage for your developers to work on and share their deliverables with the world (e.g Amazon AWS, your website hosting etc.)
Work-life balance
One of the most disturbing things that happened almost all over the world, is that with the transition to "smart" or remote work, people began working more hours in the day. They also began working in different times of the day since they do not need to adhere to "office hours" on the one hand but they do need to pay attention and take care of their children who attend school remotely at the same time during the day.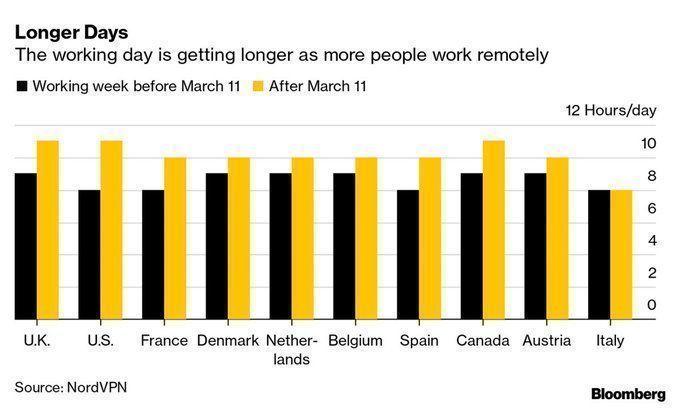 As a manager it is your responsibility to make sure your employees and team members retain the optimal work-life balance, even in these hectic times.
The way to do that is by first, setting clear "office hours" that they should adhere to if possible; and second, setting a clear window of "alternative" office hours for people who now have to work later than usual. For example people who need  to dedicate the morning to help their kids with their remote school classes, or people who do not have enough computers at home so have to let their children do homework on their computer.
It is your responsibility to make sure they do not work more than the 8 or 9 hours a day they're supposed to and do not work on weekends. It is your job to make sure that they are well rested and take their days off when they deserve them.
Managerial style
We kept the most challenging, but also most rewarding for last. Management style is never an easy thing to master and muster, even when you lead a team of people all working together in the same physical space.
When managing remotely you need to consider a few more things:
You cannot be a micro manager. None of us likes to think of ourselves as such but many of us are, with no malicious intent, simply because there's nothing easier than popping your head into someone's office and asking "hey, when do you think you'll be done with that memo?". When working remotely you cannot do that but you're so used to it, that many managers will do the same via WhatsApp, email, or both at the same time! STOP!
You cannot count on body language and emotional cues. You're now communicating by text (chat, email) or voice (calls, meetings) but more often than not you have to adapt to a new way of expressing yourself. We're not all wordsmiths but we should always remember that we're communicating with a human being and we can no longer see on their face if they're having a bad day. We have to try and understand how they are doing from how they communicate, from their response time or simply be direct and ask!
Structure is more important now than any time! While it is very trendy to have open communication in organizations these days, and everyone can email the CEO directly or even knock on their office door, now when we all work remotely it is actually counter productive to have this kind of mishmash. You want to have a clear structure with people in charge of little work groups or pods, reporting to team leaders who report to their department head, who then reports to the chief. This is crucial. This is the only way to maintain control over what's being done, over project management and preventing the top level managers who are still tasked with the ongoing growth and  very existence of the organization, from being overwhelmed by too many communications that they cannot keep up with. You need to know what your team is doing and you need to report it "up". Dispersed teams work very well independently, when they include 2-3 people. If your team is bigger or if the organization is big, there is no room for the open chitchat. You must have separate working spaces and internal communication channels for different teams (on the same platforms and tools as the entire organization!) and then one for management level only. You cannot interfere with the nitty gritty of the day to day tasks if you're a higher level manager (c-level for example). You have to learn to trust your team leaders and hear from them.
You cannot expect people to get used to new work style on their own. You have to invest in training and in making sure new additions to the team have a welcome kit with guidelines and explanations as well as a proper introduction. You have to welcome them into the working space and get them to introduce themselves. You also have to add to your new rituals a daily "morning chat" to make sure you know how everyone is doing and who's working on what. If the team is spread over time zones, make it a weekly but stick to it!
If your team is spread across time zones, you have to be mindful. You will want to include in your tools setup a shared calendar that displays all time zones and availability (Google and Microsoft both do that) and you need to encourage your team members to set in their calendar their working hours and "off" hours so that when someone tries to schedule a call or anything else they clearly see if it's feasible or not.
Final word
It's not easy to manage a team remotely. It's also a different experience for a cohesive team that used to work in an office together and for a dispersed team over various time zones.
The most important thing you can remind yourself of daily is that we're all human and we're all going through unpleasant times now. Therefore, despite the natural tendency to be nice, polite and nurturing (which are all good qualities that should be maintained) when it comes to work, structure and guidelines help a lot.
You want to create a balance between giving people their space and trusting them, and making them remember that they are part of a community. Work in a physical office automatically creates that "part of a group" feeling in people, but not necessarily an internal employee community. With remote work it's even harder so you have to balance between herding cats and being mother goose.
For advice on Managed IT solutions check out our new branch at www.gizmojack.com